Order Now: Dangerous Man Marketplace
Image: banner-dangerousman
Dangerous Man Marketplace
You will find pre-order items, ticketed events and other special things here. Thanks for checking it out!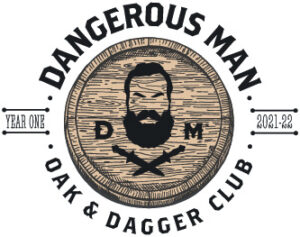 Oak and Dagger Membership
Dangerous Man is launching the 2021-22 Oak and Dagger Club, a barrel-aged bottle membership club. Membership to this club gets you 1 bottle each of our eight barrel-aged beers released September-April, invitations to two member-only events, and a set of limited edition glassware. Membership is limited to the first 60 members.
Cost: One year membership $250 (includes tax)
Member Benefits:
Eight unique bottles from DM's barrel-aged cellar program i.e. Vanilla Fudge Milk Stout aged in Woodford 7 year Master's Barrels, and our first barrel-aged sour with blackberries aged for 10+ months in Eagle Rare Bourbon barrels, plus many more.

A wooden membership card that will get you into 2 member-only events –  a curated beer/food tasting and a bottle share soiree.

A set of tasting glassware available for pick up at our first member-only party.

First rights to next year's membership.
---
Things to note
You must be 21+ to purchase a membership.
You will receive your membership card with the first bottle release in mid September.
Another person can pick up your beer as long as they bring your membership information and are 21+.
It is illegal for us to ship your beer…sorry.
Your membership includes 1 bottle of EACH barrel-age beer we produce this season, should be 8 in total. Once per month running from Sept-April.
After the release of a new barrel-aged bottle, your membership bottle will be held for one week and then forfeited… unless you send us an email with a really good reason 🙂